Search Turtle Advertising Solutions
Features Listings Example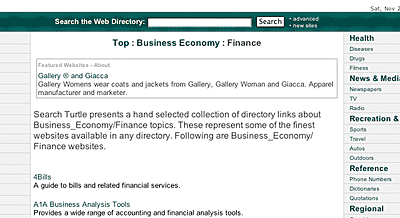 View Larger Image

Featured Listings will add your website to a specified directory category or subcategory and every webpage and subcategory within. Greatly increasing your exposure to our web searchers.
LIMIT OF 8 ADS PER CATEGORY

Available Categories:
You can select a subcategory of any of the following or choose a main category.

Business, Shopping, Computers & Internet are Sold Out.
Home Page Ads are sold out.